Silver-brocaded band found in grave Bj 735.
Some time ago the Swedish museum released new, high quality photos of some of the bands from grave 735. Thanks to this the pattern named B 17 by Agnes Geijer can be seen more clearly, and can be expanded by what I think are two dragons (or one two-headed snake-dragon).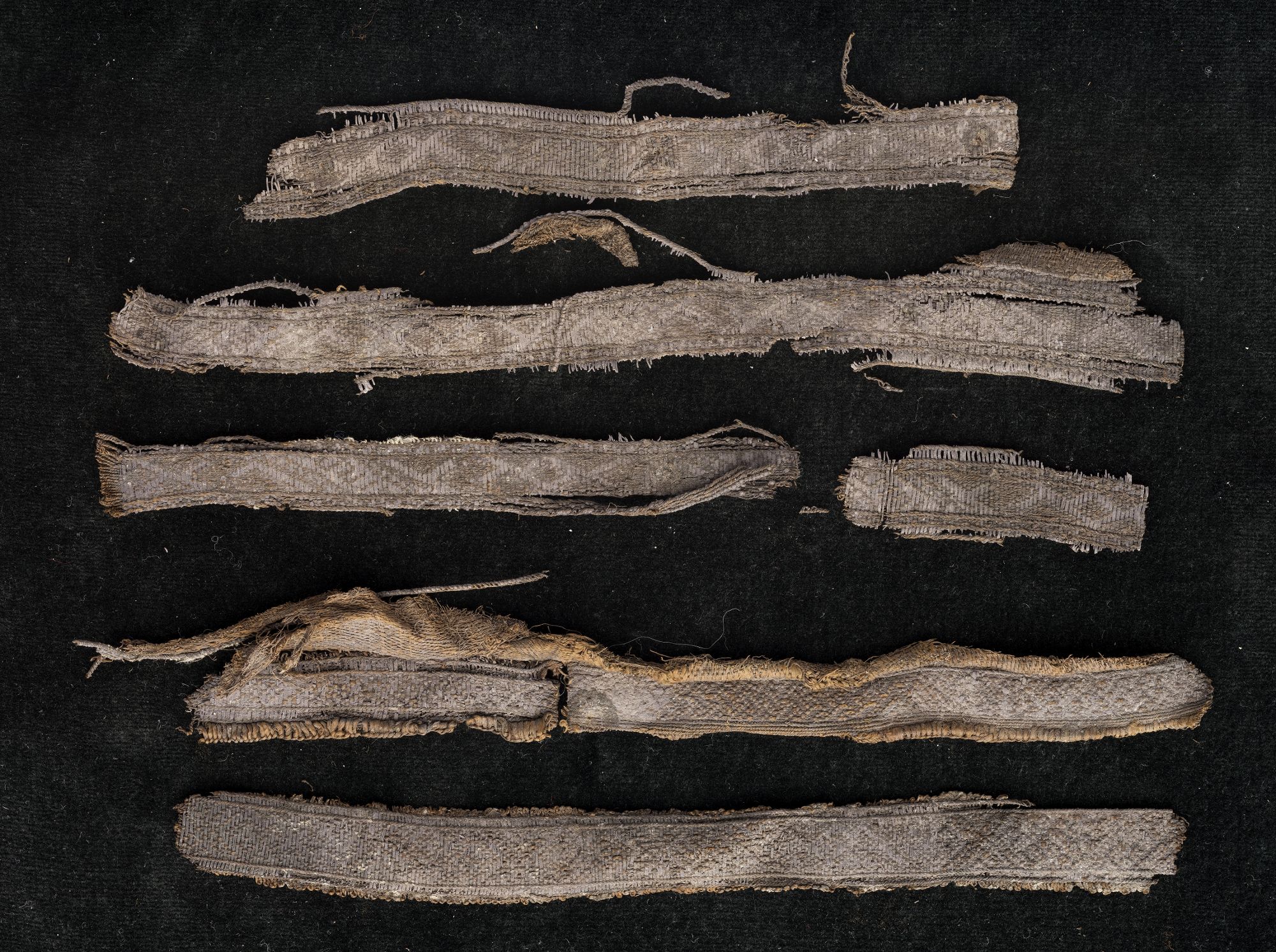 Source: http://mis.historiska.se/mis/sok/fid.asp?fid=617973
B17 is the one on the bottom here.
From Birka III by Agnes Geijer: "B17. GRAB 735. Taf. 23: i, Abb. 19 e. Brettchenband mit Silberschuss. In der Musterpartie 17 ganz-seidene, am Rande 6(?) Br., davon zwei ganz aus Seide. Dazwischen und am äussersten Rande waren ursprüng-lich noch zwei Schnüre. Im Ganzen mindestens 29 Br. Der Silberschuss kehrt gerade an der äussersten Sei-denschnur um, während sich der Grundschuss aus Seide über die ganze Breite der Borte erstreckt. Die Unter-seite ist dicht und unregelmässig, Umkehren der Schnurdrehung kommt vor. Schussdichte 17-18 per cm. Breite 15 mm. Länge 16 cm, unvollständig."
Google translate: Tabletwoven band with silver wire. In the pattern section 17 [tablets threaded with] completely silk, on the edge 6 (?) tablets, two of which are threaded entirely with silk. In between and at the very edge there were originally two cords [sic]. A total of at least 29 tablets. The silver weft is reversing at the extreme end of the cord, while the base weft made of silk extends across the entire width of the border. The underside is dense and irregular, reversal of the twist occurs. Weft density 17-18 per cm. Width 15 mm. Length 16 cm, incomplete.
Based on the new photos from Historiska, I have reconstructed the pattern and came up with this:
This pattern is fairly regular, with 1, 3 and 5 "missed" tie-downs, so this part is probably a mistake, but this part is a bit damaged, and I don't want to "make it up", there's a lot of guessing here as it is:
So far, I have woven quite a few bands with this pattern, and consistently failed to achieve the correct proportions of the pattern. Maybe next time 🙂
To order your own, please visit my Etsy shop.